Advanced Technology
Precious Metals Nanoparticles

With a reliable quality control system, we supply nanoparticles consisting of homogeneously dispersed clusters.
Features
Superior nanoparticle homogenous dispersion stability with high precious metal concentration.
Compatible with the dispersion mediums of both binary system precious metal composition and water/organic solvents.
What is precious metals nanoparticles?
The precious metals Nano cluster (particle size 1-100 nm) being dispersed into liquid or solid form.
The protection compound to variation of protective agent gives stable colloid form.
Types
Product name
Precious metal
Diameter
(nm)
Protective agent
Dispesion type
Powder type
Concentration
(wt.%)
Solvent
Concentration
(wt.%)
Au PVP
Au
5~10
PVP*1
4
Water
20~30
Pt PVP
Pt
2
Pd PVP large
Pd
5~20
Pd PVP fine
4
Pt/Rh (Core/Shell) PVP
Pt
Rh
3
-
Pt/Pd (Core/Shell) PVP
Pd
Pt PVP Ethanol
Pt
2
PVP*1
1~4
Ethanol
-
Pd PVP IPA
Pd
4
IPA
Pt PAA
Pt
2
PAA*2
2
Water
-
Pt PEI
Pt
3~5
PEI*3
~0.5
Water
-
Au DT
Au
3
Thiol
~20
Organic solvent*4
80
Pt DA
Pt
2
Amine
~5
-
*1: PVP; Polyvinyl Pyrrolidone
*2: PAA; Polyacrylic Acid
*3: PEI; Polyethyleneimine
*4: Toluene, n-Decane, etc.
Other products available upon consultation. *Please inquire regarding mass production.
Precious Metals Nanoparticles (TEM Images)
Hydrophilic type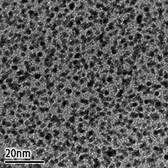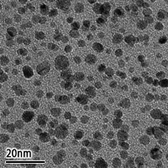 Hydrophobic type