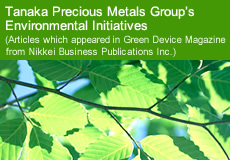 Promoting Precious Metal Recycling and Environmental Cleanup
(Summer 2010)
In order to effectively use precious metals - the limited natural resources which are essential to industrial products such as electronic equipment - initiatives on "resource recycling" as well as "environmental cleanup" that maximize the advantages bestowed by the catalyst characteristics of precious metals are crucial. Tanaka Precious Metals Group was among the first to make resource recycling and environmental cleanup priority issues and has been making increasing efforts toward realizing these goals. We spoke with Mr. Yoshinori Numai, Vice President of the Group; Mr. Hidemasa Tanaka, Director and Head of the Technology Division; and three other Group employees about specific enhancement measures.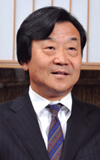 Tanaka Precious Metals Group, Resource Recycling and Environmental Cleanup
- First, please tell us about how your business views "resource recycling" and "environmental cleanup."
>>

Mr. Tanaka

At Tanaka Precious Metals Group, we view "resource recycling," "environmental cleanup," "new energy," and the "development of environmentally conscious materials" as the four pillars of our environmental- and energy-related business (Figure 1).
In our case, resource recycling is essentially the recycling of precious metals. As our industrial products use the earth's limited natural resources, we are therefore responsible for creating a system to effectively use such resources. To this end, we recover precious metals from the scrap metal generated by customers' manufacturing processes as well as waste products that have reached the end of their product life cycles (so-called "urban mines"), recycle them, and then return the recovered valuables to our customers.
As part of our environmental cleanup efforts, we develop catalysts in which precious metals are used. Combustion catalysts in particular are effective in reducing emissions of gases hazardous to the environment. Moreover, we are committed to developing new types of catalysts in collaboration with universities.
Increasing the Amount Recovered Based on Our Customers' Trust
- So the importance of recycling precious metals has increased?
>>

Mr. Numai

Demand for gold (Au) and platinum (Pt) has already largely exceeded the level of their yield from mines. In fact, in 2008 recycling accounted for 31% and 24% of the demand for gold and platinum, respectively; the market can no longer survive without recycling. Tanaka Precious Metals Group was among the first to recognize the importance of recycling as well as to launch a recycling system.
When we started our recycling business, honestly we had a hard time. In the first place, there were few customers who believed that precious metals were contained in their waste products. So we visited and inspected customers' manufacturing sites, analyzed sample waste products which seemed likely to contain precious metals, and then showed our results to customers in order to show them the precious metals in their waste products. We analyzed dust in cleaners used in semiconductor manufacturing equipment lines as well as waste cloths. Through our patient efforts, customers gradually became aware of the precious metals in their waste products. In some cases, even cleaning solutions for jigs, which customers had been paying waste companies to dispose of, could be turned profitable by recycling. In this manner, customers started to become aware of the importance of resource recovery. As time went on, the amount of precious metals recovered increased dramatically, and today 13% of the gold and 43% of the platinum delivered from Tanaka Precious Metals Group are accounted for by materials recovered from resource recycling.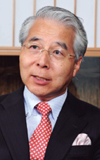 - Why did the amount recovered by Tanaka Precious Metals Group increase so drastically?
>>

Mr. Ichiishi

I think that as customers came to consider recovered precious metals as part of their own assets, they began to value the reliability of companies engaged in the recovery of precious metals. Some companies that recover precious metals do not seem to have adequate analysis capabilities and therefore they assess the value of precious metals as low to be on the safe side. However, such underestimation may hurt customers financially. Tanaka Precious Metals Group is accredited by the London Bullion Market Association (LBMA) as one of only five Good Delivery Referees for gold and silver in the world, signifying global recognition of our high analytical and test skills. For this and other reasons, I believe our customers trust us as to evaluate their assets accurately, which has led to the increase in the amount of precious metals that we are able to recover.
>>

Mr. Numai

To gain customers' trust, I always instruct our sales division to invite customers to our plants. When customers visit our plants, we provide them with a thorough tour. This would not be possible if we were not confident that we were performing recovery of precious metals correctly.
>>

Mr. Ichiishi

That it is increasingly difficult to make a profit by manufacturing due to reduced product prices and it has also contributed to the increase in the amount of precious metals we recover. It seems that in order to reduce losses in their manufacturing processes, customers want to reduce manufacturing costs by securely recovering any valuables contained in their waste products. This is one of the reasons why Tanaka Precious Metals Group, which has gained customers' trust as a company capable of using its high analytical skills to assess precious metals accurately, is so successful.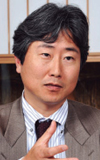 Anticipating Recycling even in the Development Phase
- I heard that you expanded your coverage of recycling beyond just industrial products. Could you say more about that?
>>

Mr. Numai

In June 2009, we launched "RE: TANAKA," a service in which we receive precious metal jewelry from general consumers, analyze the gold or platinum content within, and then offer to buy the jewelry. We offer this service at our 47 stores, including Tanaka Kikinzoku Jewelry K.K. and other RE: TANAKA member stores. We appraise the precious metal jewelry that customers bring to these stores with our special analyzers and then offer to purchase the pieces. Since gold in particular is often used for decoration, recovering such gold is important from the standpoint of ensuring a stable supply of gold to our customers. After the first nine months of operating this service, we had recovered 2.2 tons of gold and 0.2 tons of platinum. This accounts for only a fraction of our total amount of precious metal recovery, as we have yet to fully promote this service to consumers. However, we remain committed to this service as part of our efforts toward effectively using our limited mineral resources.
>>

Mr. Ichiishi

You may think of recycling as inefficient. However, in fact it is rather efficient. For example, while 3 to 7 g of gold can be extracted from 1 ton of rude ore, 500 g to 1 kg of gold can be recycled from 1 ton of IC scrap. The challenges in recycling are to assess the precious metals contained in scrap accurately as well as to recycle precious metals quickly in order to reduce the interest burden. Recycling precious metals is quite difficult unless one has the know-how to address both of these challenges, as Tanaka Precious Metals Group has.
>>

Mr. Numai

We have launched a new initiative for recycling industrial products in which we recommend an appropriate service in consideration of the total process, from the product development phase to recycling after product disposal. Manufacturers often develop new products by using precious metals with new composition. However, new composition of precious metals requires a new recycling technique. If manufacturers deliver new products without establishing such a technique, they will end up with piles of waste products containing valuable precious metals. For this reason, we build recovery systems suitable for such precious metals with new compositions and recommend it as a service to customers before they ship their new products. We believe establishing such recycling techniques for new raw materials in advance is also important in terms of legal compliance, etc.
>>

Mr. Sasaki

In addition to recycling precious metals as resources, recycling the functionalities of precious metals is another important aspect of resource recycling. One example is catalyst regeneration. Catalyst performance gradually deteriorates as they continue to be used, eventually requiring them to be replaced. Although catalysts are usually disposed of upon replacement, Tanaka Precious Metals Group reuses catalysts by cleaning them so that the precious metals contained therein can be used for a longer period. In this way, catalysts can be reused at a fraction of the cost of replacement, and the amount of waste products generated can be reduced as well. Finally, when the catalyst can no longer be reused, it can be scrapped and recycled as precious metals.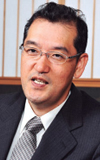 A Combustion Catalyst that Reduces NOx Emissions
- Could you explain the functions of precious metal catalysts in more detail?
>>

Mr. Sasaki

For example, take the deodorization function, which is especially effective against toluene, xylene, and other volatile organic compounds (VOCs). Although there are now strict regulations regarding emissions of these compounds, by using oxidation catalysts composed of precious metals, emitted VOCs can be rendered harmless turning them into water and carbon dioxide.
Oxidation catalysts are also effective for handling offensive smells that generally discomfort humans. For example, catalysts are used in inductive heating cooking devices to prevent offensive smells from being emitted from fish roasters. In addition, catalysts can dissolve the various airborne causative agents which create all kinds of offensive smells, easily rendering them odorless (Figure 2). Activated charcoal can also be used to render offensive smells odorless. However, unlike activated charcoal, which simply absorbs the bad odor, catalysts chemically dissolve the offensive smell to render it odorless; in other words, they have a function to clean the surrounding environment.
>>

Mr. Unno

Combustion catalysts are one type of oxidation catalyst that can contribute to the environment. Combustion catalysts do not remove what has already been generated, but they do prevent substances harmful to the environment from being generated in the first place. For example, the burning temperature of gas turbine generators can reach 1,800°C, and at this temperature, thermal NOx is generated due to the reaction of nitrogen and oxygen in the air. The role of combustion catalysts is to facilitate operation of gas turbine generators at lower burning temperatures of approximately 1,300 to 1,500°C, a level at which thermal NOx is not generated. Automobile manufacturers are also taking measures to reduce emissions of environmental impact materials from automobile diesel engines by using catalysts to comply with exhaust gas regulations.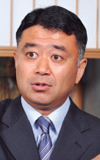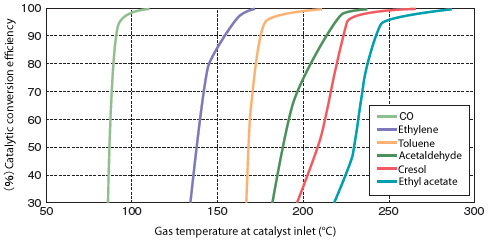 - Speaking of automobiles, fuel cell automobiles that use catalysts are also making headlines, aren't they?
>>

Mr. Unno

There are two ways of approaching environmental cleanup: cleaning up substances harmful to the environment and preventing the generation of such substances in the first place. In addition to the combustion catalysts explained above, fuel cells fall under the latter category. In fuel cells, the energy generated when hydrogen and oxygen react is extracted as electricity. Platinum is indispensable in this process. If all gasoline-based cars are replaced with fuel cell cars, exhaust gases will be replaced with water vapor. In other words, fuel cell cars that use catalysts do not emit toxic exhaust gases. Recently, the escort cars used for the Tokyo-Hakone Ekiden (marathon race) were replaced with fuel cell cars. Perhaps this was done out of consideration for the runners' health.
Toward the Development of Technologies for Wastewater Purification with Light
- How do you plan to strengthen your environmental cleanup business?
>>

Mr. Ichiishi

Previously, the main role of precious metal catalysts was to clean the air. Now, however, we are attempting to expand their role to include water purification. As part of this effort, we have organized an environment business group on-site at our plants which is charged with developing photocatalyst technologies in collaboration with universities. Although the nitric acid and ammonia nitrogen contained in wastewater are considered to be part of the cause of red tide, few realistic measures have been taken and adequate regulations have yet to be adopted by the government. Under such circumstances, we are attempting to develop technologies that enable dissolving such toxins into nitrogen with photocatalysts that use precious metals. If a means of dissolving nitric acid and ammonia nitrogen using only precious metals and sunlight without requiring electricity, heat, or other energy is developed, we believe the efforts to clean up wastewater will move forward immediately. Although there are some challenges such as finding a way to expose the toxins to light, we plan to clear these hurdles one by one to realize photocatalyst technologies.
>>

Mr. Tanaka

The essential point in both our resource recycling and environmental cleanup businesses is that we are able to contribute to consumers, society, and companies through our business. In resource recycling, we help our customers protect their valuables and preserve society's limited resources while ensuring a stable supply of such resources. In environmental cleanup, we help customers' comply with regulations, ensure the safety of society, and contribute to our businesses. We believe Tanaka Precious Metals Group's responsibilities are to continue to further refine our four business pillars: "resource recycling," "environmental cleanup," "new energy," and the "development of environmentally conscious materials."