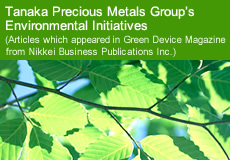 Developing Environmentally Conscious Materials Using Precious Metal Technologies
(Fall 2009)
Tanaka Precious Metals Group has consistently supported the evolution of frontier industrial products throughout its 124-year history by offering precious metal materials and technologies to apply them. The Group was among the first to launch initiatives to address the environmental and energy related issues which are now increasingly receiving international attention. One such initiative is the Group's development of environmentally conscious materials. We spoke with Mr. Hidemasa Tanaka, Director and Head of the Technology Development Department at Tanaka Precious Metals Group, as well as four other employees involved in environmentally conscious materials development about their specific efforts toward this initiative.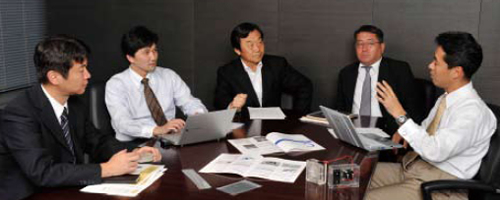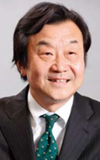 development of environmentally conscious materials
-What are Environmentally Conscious Materials?
>>

Mr. Tanaka

The term "environmentally conscious materials" refers to substances that do not place a significant burden upon the environment. Along with "new energy," "resource recycling," and "environmental cleanup," the "development of environmentally conscious materials" is one of the four pillars of our environmental and energy related business (Figure 1). We are committed to eliminating environmentally hazardous substances from our existing materials, developing alternative materials, and also developing materials for use in various formation equipment that are useful for reducing environmental loads. It is not only important that the materials themselves do not burden the environment, but also that the environment should not be burdened in the process of manufacturing and developing materials.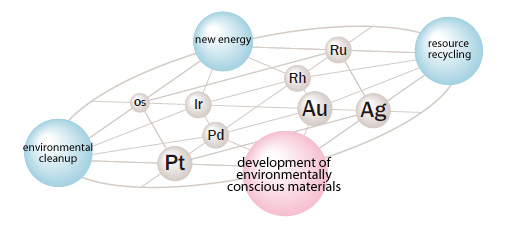 Eliminating Cadmium from Switches and Relays
- Please give some specific examples of your environmentally conscious materials.
>>

Mr. Tanaka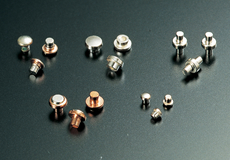 Figure 2: External view of cadmium-free contacts One example of a material that does not contain toxic substances is the contact material for relay parts, which are used to open and close circuits through which relatively large (medium to high) currents pass (Figure 2). Previously, silver oxide cadmium (AgCdO) was used for these contacts. Though it contains cadmium (Cd), which is a toxin, silver oxide cadmium was used because it effectively addressed the problem in which contacts could not be opened due to the arc discharge occurring upon opening or closing the relays as well as due to deposition caused by Joule heat. Cadmium oxide (CdO) successfully restricts the generation of arc discharge and Joule heat thanks to sublimation and other characteristics.
In Japan, however, one pollution-related disease has been traced to cadmium. After the recent RoHS directive in Europe that defined cadmium as a restricted substance for industrial products, a movement to restrict the use of cadmium spread globally. Triggered by this movement, eliminating cadmium from electronic devices became an immediate issue, and today companies around the world are committed to developing alternatives to cadmium. We commenced development of cadmium-free materials about twenty years ago, and since then we have strived to manufacture products that meet our customers' needs appropriately.
Realizing Properties that Exceed Those of Conventional Products
- What Are the Specific Roles of Precious Metals in the Field of New Energy?
>>

Mr. Sanada

One of the challenges we faced in developing cadmium-free contact materials was to solve two conflicting problems: stabilization of contact resistance and preventing contacts from failing to open due to deposition. We started a study focusing on silver oxide alloy materials, such as tin oxide (SnO2) and indium oxide (In2O3), with the goal of developing materials with properties exceeding those of the conventional silver oxide cadmium contacts. We have succeeding in developing materials with performance satisfying our goal, and we have nearly finished rounding out our product lineup. Specifically, we have developed all variety of alternative materials to cadmium capable of supporting each of the diverse electric load conditions (Table 1).
Recently, as a result of the automation of on-vehicle electrical equipment, demand for the relays used to control such equipment has been rapidly increasing in particular. On-vehicle relays are used for direct current circuits, and we found that the above alternative materials can be used for such relays by adjusting the amount of oxides within them. Thanks to this discovery, we have been able to significantly grow the market for relay contact materials.
Developing Cadmium-free Materials for Motors
>>

Mr. Yoshida

In addition to relays and switches, cadmium has conventionally been used for the drive motors in DVD players and game consoles as well as the sleeve contacts for the commutators included in the small vibrator motors used in mobile phones. At a sleeve contact, a commutator rotating in the direction of the motor axis makes contact with a fixed brush. As the motor rotates, mechanical wear of both brush and commutator increases as each is exhausted by the arc discharge occurring between them.
To mitigate these problems, silver (Ag) -palladium (Pd) alloy, which has excellent abrasion resistance, is used primarily for brushes. However, commutators have conventionally contained cadmium, which is effective in restricting discharges, using silver-cadmium alloy or silver-copper (Cu)-cadmium alloy, both of which have good affinity with silver palladium alloy brushes. For this reason, with a leading motor manufacturer we jointly developed a new cadmium-free alloy based on silver-copper-nickel alloy, which contains relatively less expensive copper and nickel (Ni). This new alloy has an optimal composition, reduces material costs thanks to the trace elements added to it, and exceeds cadmium alloy with respect to performance.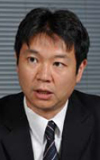 >>

Mr. Tanaka

In the global market for contact materials for medium to high current relays and switches, we have a market share of approximately 40%. We have already replaced about 95% of the products that previously contained cadmium with ones comprised of cadmium-free materials. By March 2011, we will completely replace all our contact products in the domestic market with ones featuring cadmium-free materials. We also have a share of more than 50% in the market for sleeve contact materials for small motors. We already completed replacement of the materials used for such sleeve contacts with alternative cadmium-free materials nearly one year ago. We will continue to make significant contributions to replacing additives hazardous to the environment.
Generating Environmentally Friendly Electrolyzed Water through Electrolysis
- You are committed to materials used for generating substances that can reduce burdens on the environment. Could you give us some specific examples of such initiatives?
>>

Mr. Tanaka

One example is the electrodes for electrolysis used to generate environmentally friendly electrolyzed water. When tap water is electrolyzed, the water on the cathode side shows a high alkalinity. In this way, alkaline ion water is created. If a saline solution is electrolyzed instead of tap water, ion water with even stronger alkalinity can be generated. This strong alkaline ion water is excellent for cleaning and significantly reduces the burden on the environment. As for the materials used in these electrodes, corrosion-resistant titanium (Ti) is used as the base, and platinum (Pt) or iridium (Ir) is used for the base plating, indirectly contributing to reduced environmental loads.
>>

Mr. Nishio

Previously, organic solvents such as toluene were used in semiconductor cleaning processes, but their use has been prohibited in consideration of the harm they cause to human health for some time. As a result, the use of surfactants has become mainstream in cleaning processes. However, once again an environmental problem has arisen; after using a cleaning solvent that includes a surfactant, rinsing is required after the cleaning process, which inevitably increases the amount of effluent used. Strong alkaline ion water is an effective solution to this problem, as it has high cleaning performance with respect to oily contamination. Furthermore, it eliminates the need for a rinsing process because it does not foam, and this characteristic greatly reduces the amount of effluent and thus can significantly reduce environmental loads.
Electrolyzing tap water or a saline solution results in acid water on the anode side. This acid water also can be used for cleaning, such as for washing dishes or vegetables. It is even suitable for cleaning medical equipment thanks to its high bactericidal performance. Thus, conventional chemical cleaning solvents can be replaced with acid water, thereby further reducing environmental loads.
Electrodes that have deteriorated due to electrolysis or other reasons can be recycled as electrodes by recoating with platinum. This too leads to "resource recycling," one of the Group's four pillars.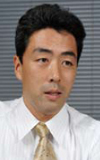 Contributing to Marine Environment Maintenance
>>

Mr. Tanaka

Electrolysis technology for tap water and saline solutions can be practically and effectively applied for various purposes, such as countermeasures against sea contamination due to waste water from factories and ships as well as for preventing contamination at seawater facilities. As the issue of marine environment maintenance is an enormous challenge, we are working hard to develop electrode materials suitable for each need.
>>

Mr. Matsui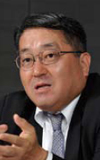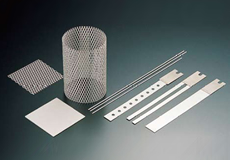 Measures for marine environment maintenance include those for treatment of the ballast water of oil tankers. Ballast water refers to seawater that has been loaded onto tankers to maintain a waterline on their way back from oil transportation work. Ballast water is usually discharged after the tanker arrives at its home port, but the problem is that such ballast water contains marine life that should reside at the location from which the tanker previously left. Indiscriminate discharge of ballast water may destroy marine ecological system. This issue and related problems were discussed within the IMO (International Maritime Organization: www.imo.org/) to develop appropriate regulations. In the interim, the IMO has directed tankers to change ballast water approximately 200 nautical miles from the coast. In 2009, tighter regulations will come into force which stipulates that newly-built ships must be equipped with ballast water treatment systems. In 2016, all ships will need to be equipped with such systems, providing a significant reason for us to establish such technology.
A number of methods for ballast water treatment have already been proposed, one of which is electrolysis. Electrolysis of seawater produces antibacterial electrolysis water that adequately accounts for marine life. We are diligently pursuing material development to be able to apply insoluble electrodes (Figure 3), such as titanium/platinum electrodes, as electrodes for these treatment systems.
>>

Mr. Tanaka

Precious metals and their applications have still further possibilities in many areas for helping solve the environmental problems that have emerged as significant global issues. We would like to continue delivering environmentally conscious materials for use in various areas while pursuing possibilities for precious metals so that we can continue to contribute to society's development.